Build a better business with flat roofing materials from Commercial Flat Roofs.
Based in London, we serve contractors and building owners throughout Ontario.
Custom Prefabrication
The majority of the long-term problems that arise with most roofing systems are due to installation workmanship. By performing 80-85% of membrane seaming in a controlled factory environment, Duro-Last reduces the potential for rooftop installation errors and leaks. Custom-fabricated stacks and curb flashings also eliminate most on-site work at critical roof areas, such as penetrations and transitions.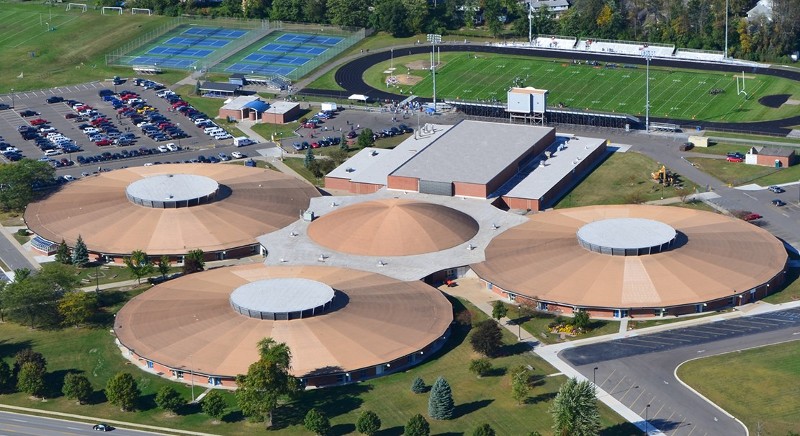 The Duro-Last roof membrane is a proprietary thermoplastic formulation that provides exceptional flexibility, reflectivity, resistance to UV radiation, and flame retardance. Roofing system performance is a balance between film formulation, membrane thickness, and reinforcement. Duro-Last adds no filler material to increase the membrane thickness—the film is the same proven formula from top to bottom. Plus, the membrane's top film thickness is equal to or greater than that of other single-ply products.
A key Duro-Last difference is the reinforcement scrim within the membrane. It's a weft-insertion scrim with a density of 14 x 18 threads-per-inch—among the highest in the industry.
The Duro-Last membrane is available in terra cotta, tan, dark gray, gray, and white. Duro-Last offers membranes that are 40 mil, 50 mil, and thicker. The standard Duro-Last 40-mil membrane is classified as an ASTM D4434 Type IV PVC roofing system, but the strength characteristics pass all the standards for 50-mil products, which are classified as ASTM D4434 Type III PVC. It can be mechanically attached, adhered, or induction welded using the Duro-Bond™ system.
The Prefab Four
1. Factory-Welded Seams Mean Better First-Time Quality & Less Callbacks
2. Prefabricated Accessories Provide Easier Transitions, Superior Waterproofing & Aesthetics
3. Less Labour for Time Off the Roof
4. Clean Installations Offer Less Job Site Waste & Disruptions
Five Key Attributes of a High-Performance Roofing System
• Energy—It's more important than ever to select a roof that can reduce energy use and improve a building's efficiency in any climate.
• Engineering—Utilizing the right materials, design, and manufacturing process is the key enabler of the other four Es, resulting in a complete, integrated roofing system that can be installed easily and performs reliably over the long run.
• Economics—A high-performance roof has to make economic sense in the long run. A true economic comparison analyzes the cost of a roof throughout its life-cycle.
• Endurance—A high-performance roof meets or exceeds performance requirements for long life: all-weather reliability, chemical, fire, and puncture resistance, and ease of maintenance and repair.
• Environment—High-performance roofing minimizes the impact on the Earth's environment throughout the roof's life and helps maintain a healthy, productive environment inside the building.